简介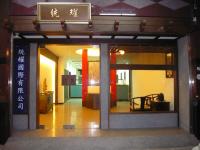 本公司成立于西元2001年, 出口中药产品,以欧洲市场为主;目前客户分部于德国、奥地利、瑞士及英国。 另外 本公司主要产品乃以传统中草药经高科技低温萃取浓缩,精制成科学中药颗粒剂。 经高规格品质检验,确保无农药残留、重金属、黄麴毒素、及马兜铃酸等,符合中华药典及欧洲药典之规范;有口服细粒、即溶颗粒、茶包、胶囊及外用贴布、油膏等…..



East Glow was established in March of 2001 and over the course of the last decade our business has grown phenomenally. Today sales come from two major segments, first of which is business in domestic market and second is the fast growing export business to Europe. Our quality solutions are all natural products including raw herbs, highly concentrated TCM (Traditional Chinese Medicine) in Granule, Capsule, Tablet, and Instant extract form. We provide a wide range of traditional single herbs, formulas and special designed formulas. Our established channels include Chinese Medicinal Clinics and Hospitals. East Glow also sells Chinese Oolong Teas as well as Chinese medical instruments and some products for external using such as Hydrogel plaster, sprayers, and creams all made from Chinese Medicine Extracted by GMP Pharmaceutical manufacturers in Taiwan.

In addition to our branded solutions East Glow also serves our customers through the implementation of unique branded labels for customers in their local language or in English. We also provide the test reports of not only just normal items required by the government, but also the reports on microbial tests, heavy metals, pesticides and aflatoxins according to customer's unique requirements. Whatever your needs are, East Glow is your one stop shop for premium quality Chinese medicinal solutions.

服务内容: 请选择次类别
联络资料
联络电话:02-82595666
联络地址:220 新北市板桥区长江路一段256号1F
联络信箱:east.glow@msa.hinet.net


统耀国际有限公司
联络地址:220 新北市板桥区长江路一段256号1F
联络电话:02-82595666